Alabama Farm Credit Donates $5,000 to Support 4-H Programs
Dec 21, 2021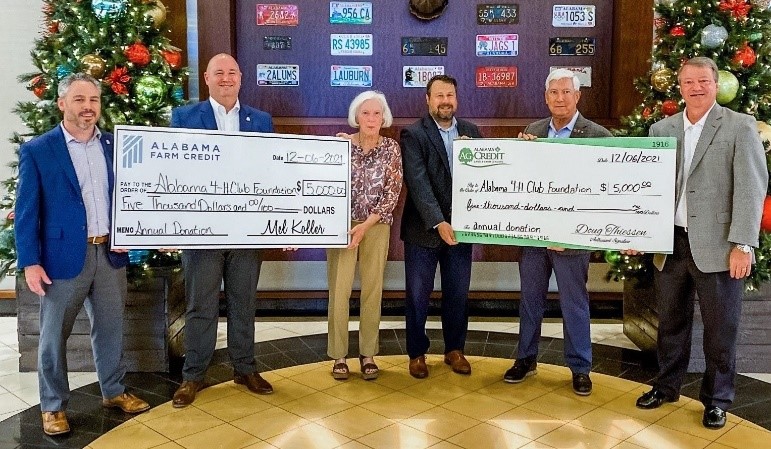 CULLMAN, Alabama — Alabama Farm Credit recently donated $5,000 to the Alabama 4-H Foundation in support of youth programs throughout the state. The annual donation will help fund camps, leadership training and scholarships for 4-H members in the coming year.
At the same time, Alabama Ag Credit also awarded $5,000 to the 4-H Foundation, doubling Farm Credit's support for 4-H programs in the state.
"Alabama Farm Credit puts a lot of emphasis on investing in our communities. Partnering with Alabama 4-H gives us the opportunity to do just that," said Mel Koller, Alabama Farm Credit president and chief executive officer. "We are honored to support an organization that shares the importance of agriculture and good citizenship with our youth."
Giving to 4-H is one of the ways Farm Credit carries out its mission to support agriculture and rural communities. Nearly 126,000 Alabama young people learn about agriculture, science, health, good citizenship and leadership through hands-on 4-H projects.
Alabama Farm Credit finances farms, forestry operations, agribusinesses, country homes, recreational land and other rural property in 27 North Alabama counties. It's headquartered in Cullman and has branch offices in Albertville, Athens, Cullman, Talladega and Tuscumbia. For more information, go to www.alabamafarmcredit.com.