Welcome to the 2023 Alabama Farm Credit Summer Interns
Jun 16, 2023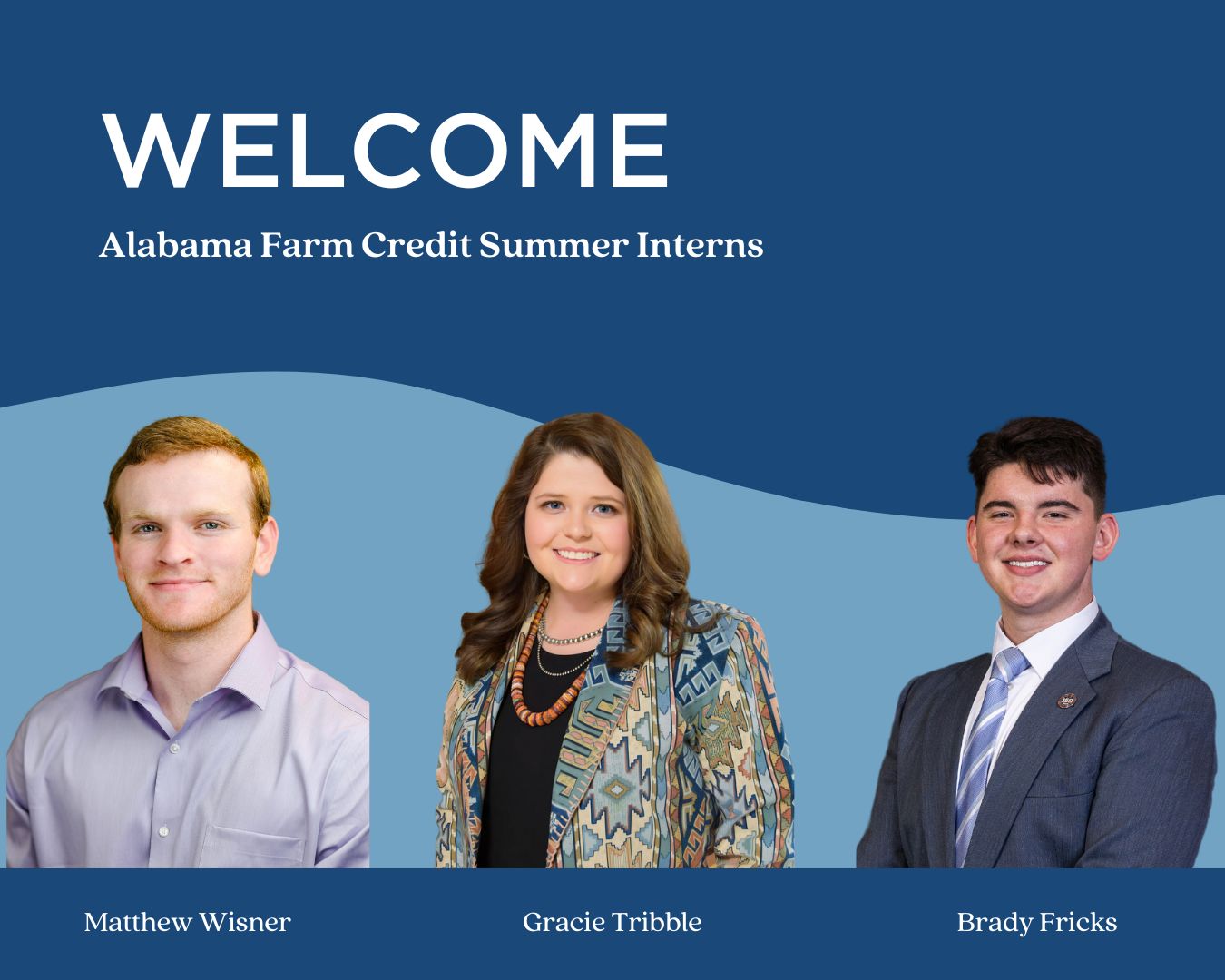 Alabama Farm Credit has started a brand-new internship program for college students interested in ag, finance, credit, lending, or another supported fields. We are thrilled to have selected three students for the summer program and would like to welcome them to Alabama Farm Credit. We look forward to guiding you through a summer filled with hands-on learning, valuable networking opportunities, and exposure to the agricultural finance industry.
Throughout the program, interns will gain practical experience related to lending, credit risk analysis, financial analysis, and much more. In addition, there will be opportunities to hear from experts in the industry through informational sessions and networking events. Our internship program is designed to provide a supportive and engaging learning environment conducive to developing your professional skills.
Our interns are Matthew Wisner, Gracie Tribble, and Brady Fricks this year. Each student brings unique perspectives, which will be invaluable to our association this summer. Keep reading to find out more about our summer interns.
Matthew Wisner
Matthew is a recent graduate from the University of North Alabama with a Professional Finance degree. He is a goal-oriented team player and is eager to start with AFC.
Gracie Tribble
Gracie is approaching her senior year at Mississippi State University, studying Agribusiness Management. Gracie has been involved in many ag clubs and teams and has work experience at several farms.
Brady Fricks
Brady is studying at Auburn University and expects to graduate this upcoming fall. He is studying Agricultural Business & Economics and has participated in many different ag clubs there.
We are excited to welcome the 2023 Alabama Farm Credit Summer Interns and can't wait to see the growth and success you will achieve throughout the program. Whether you have a strong interest in agricultural finance or are looking for a unique and meaningful summer experience, we encourage you to apply to the program in 2024. Please scan the QR code below to be notified when applications are open.